Remote Procedure Calls
Example : GetFile App
Client Server
Create and init sockets
Allocate and populate buffers
Include 'protocol' info
Copy data into buffers
common steps related to remote IPC
Remote Procedure Calls (RPC)
Intended to simplify the development of cross address space and cross machine interactions
+ Higher-level interface for data movement and communication
+ Error handling
+ Hiding complexities of cross machine interactions
RPC requirements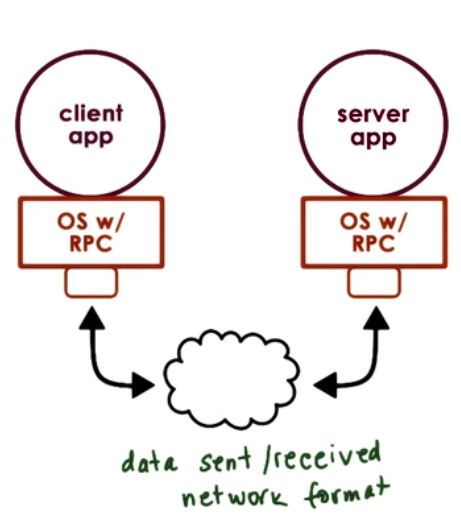 Client/Server interactions
Procedure Call Interface => RPC
Type checking

error handling
packet bytes interpretation

Cross machine conversion
Higher level protocol

access control, fault tolerance, different transport protocols
Structure of RPC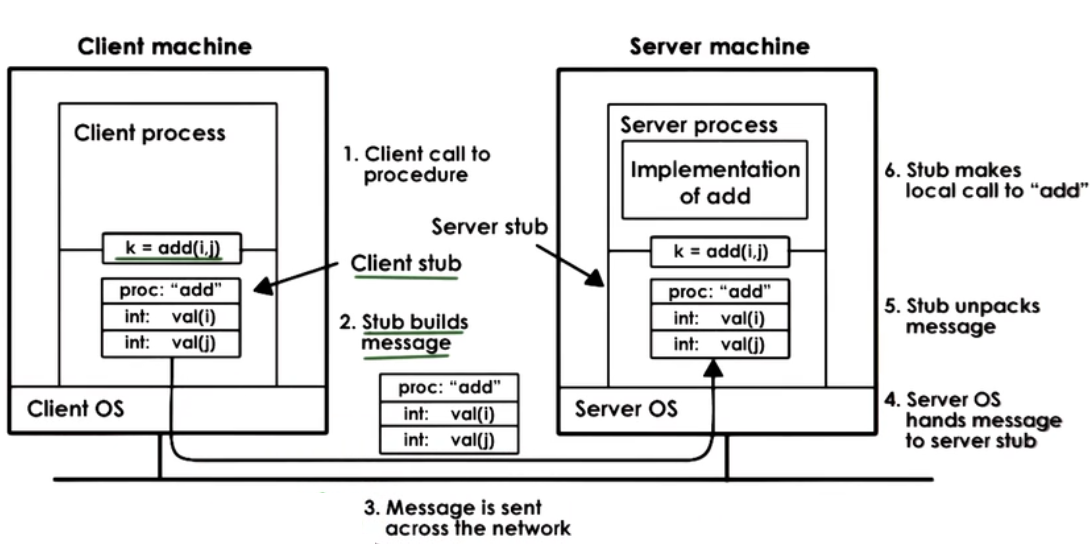 RPC Steps:
(-1.) register : server registers procedure, arg types, location
(0.) bind : client finds and binds to desired server
call : client make RPC call; control passed to stub, client code blocks
marshal : client stub "marshals" args (serialize args into buffer)
send : client sends message to server
receive : server receives message; passes message to server stub; access control
unmarshal : server stub "unmarshals" args (extract args from buffer)
actual call : server stub calls local procedure implementation
result : server performs operation and computes result of RPC operation
(same on return <=)
Interface definition Language (IDL)
Used to describe the interface the server expects

procedure name, args, 2 result types
version number
RPC can use IDL that is
Language agnostic
Language specific
Marshalling

Unmarshalling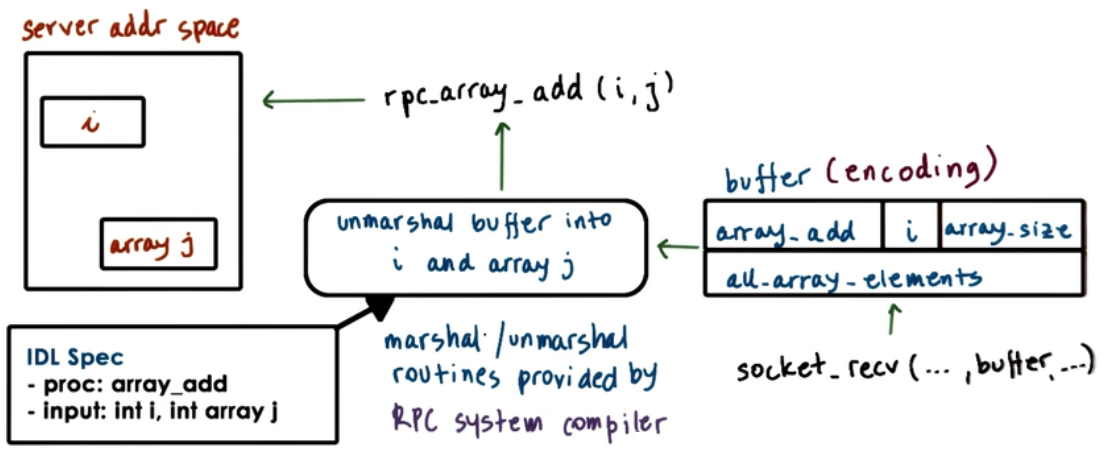 Marshalling/Unmarshalling routines are provided by RPC system compiler.
Binding and Registry
Client determines

which server to connect to?

service name. version number

how to connect to that server?

IP address, network protocol

Registry : database of available services

search for service name to find server(which) and contact details(how)
distributed

any RPC service can register

machine-specific

for services running on same machine
clients must know machine addresses
registry provides port number needed for connection

Who can provide a service?

lookup registry for image processing

What services do they provide?

compress/filter.. version number => IDL

How will they ship package?
Pointers
Procedure interface : foo(int,int)
in Local Calls : foo(x,y) => okay
in Remote Calls : foo(x,y) => ?
here, y points to location in caller address space
Solutions:

No pointers
Serialize pointers; copy referenced ("points to") data structure to send buffer
Handling Partial Failures
Special RPC error notification (signal, exception..)

Catch all possible ways in which RPC can (partially) fail
RPC Design choice
Binding => How to find the server
IDL => How to talk to server; how to package data
Pointers as args => Disallow or serialize pointer data
Partial failures => Special error notifications
---