Operating Systems Overview
---
Operating Systems :
Direct operational resources [CPU, memory, devices]
Enforces working policies [Resource usage, access]
Mitigates difficulty of complex tasks [abstract hardware details (using system calls)]
What is an Operating System?
Intermediate between Hardware and Software applications
Hides hardware complexity (Read/write file storage, send/receive socket network)
Handles resource management (CPU scheduling, Memory management)
Provide isolation and protection (allocate different parts of memory to different applications so that applications don't overwrite other memory locations)
Operating System definition:
An Operating System is a layer of systems software that:
directly has privileged access to the underlying hardware;
hides the hardware complexity;
manages hardware on behalf of one or more application according to some predefined policies.
In addition, it ensures that applications are isolated and protected from one another.
Operating System examples:
| Desktop | Embedded devices |
| --- | --- |
| Microsoft Windows | Android OS |
| MAC OS X (BSD) | iOS |
| LINUX | Symbian |
| ... | ... |
OS Elements
Abstractions (corresponds to applications that OS executes)

process, thread, file, socket, memory page

Mechanisms (on top of Abstractions)

create, schedule, open, write, allocate

Policies (how mechanisms are used to manage underlying hardware)

Least Recently Used (LRU) , Earliest Deadline First (EDF), etc.
Example :
Memory Management:
Abstractions: Memory page
Mechanisms: Allocate, map to a process
Policies: LRU
OS Design Principles
Seperation of mechanism and policy

implement flexible mechanisms to support many policies
e.g. LRU, LFU, random

Optimize for common case

Where will the OS be used?
What will the user want to execute on that machine?
What are the workload requirements?
User/ Kernel Protection Boundary
user-level => applications [underprivileged mode]
kernel-level => OS Kernel [privileged access, hardware access]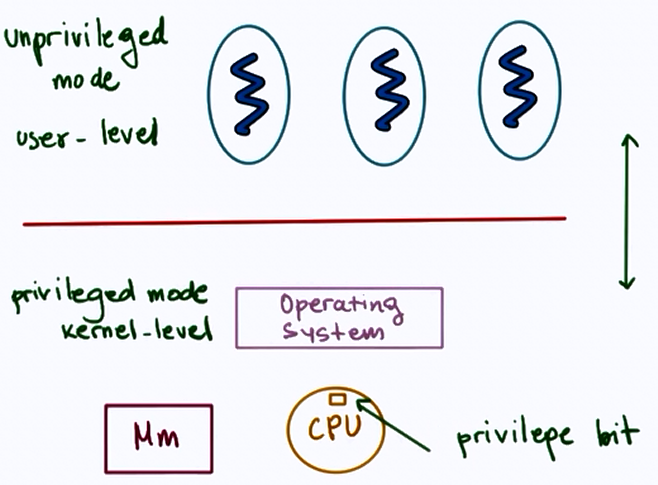 User-Kernel switch is supported by hardware.

using trap instructions
system calls like:

open (file)
send (socket)
malloc (memory)

signals
System call Flowchart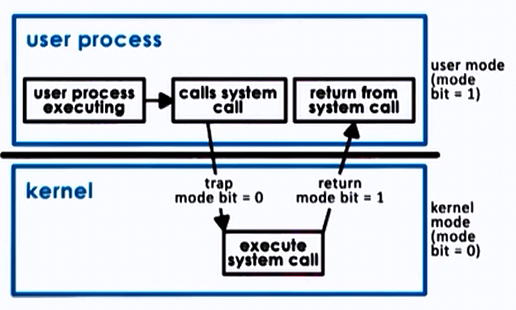 To make a system call, an application must:

write arguments
save relevant data ast well defined location
make system calls using system call number

In synchronous mode : wait until system call completes.
Basic OS services
process management
file management
device management
memory management
storage management
security
Linux System Calls
| Task | Commands |
| --- | --- |
| Process Control | fork (); exit(); wait(); |
| File Manipulation | open(); read(); write(); |
| Device Manipulation | ioctl(); read(); write(); |
| Information Maintenance | getpid(); alarm(); sleep(); |
| Communication | pipe(); shmget(); mmap(); |
| Protection | chmod(); umask(); chown(); |
Linux Architecture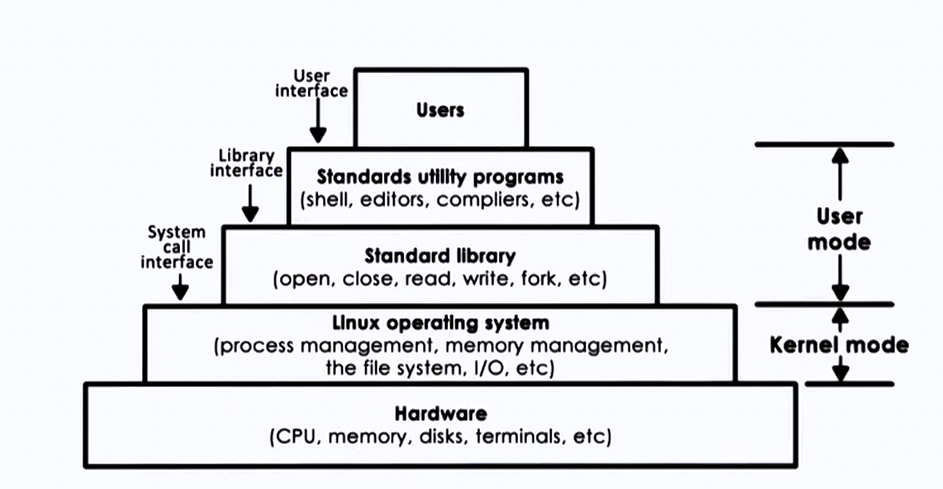 ---